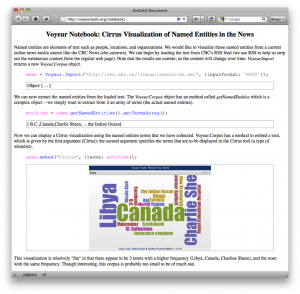 SSHRC has awarded funding to Stéfan Sinclair & Geoffrey Rockwell for the Voyeur Notebooks project. Voyeur Notebooks will prototype a new, web-based interface that will allow humanities researchers and students to create analytic works of "literate programming" that interweave narrative about the intellectual process of text analysis with procedural source code. Designing and implementing this prototype will serve the following five core objectives:
To determine whether or not it is possible to design and implement a literate programming interface as a web application.
To determine the optimal architecture for functionality to occur immediately within the browser (client-side) or to require a call to a web service (server-side).
To explore what code syntax would be most appropriate for a primarily humanities audience.
To explore how Voyeur Notebooks might be designed to leverage social media practices.
To determine the viability of a more robust and full-featured literate programming interface, perhaps supported by a proposal to the Insight Grant program.
We look forward to developing Voyeur Notebooks within the context of the Criminal Intent collaboration.