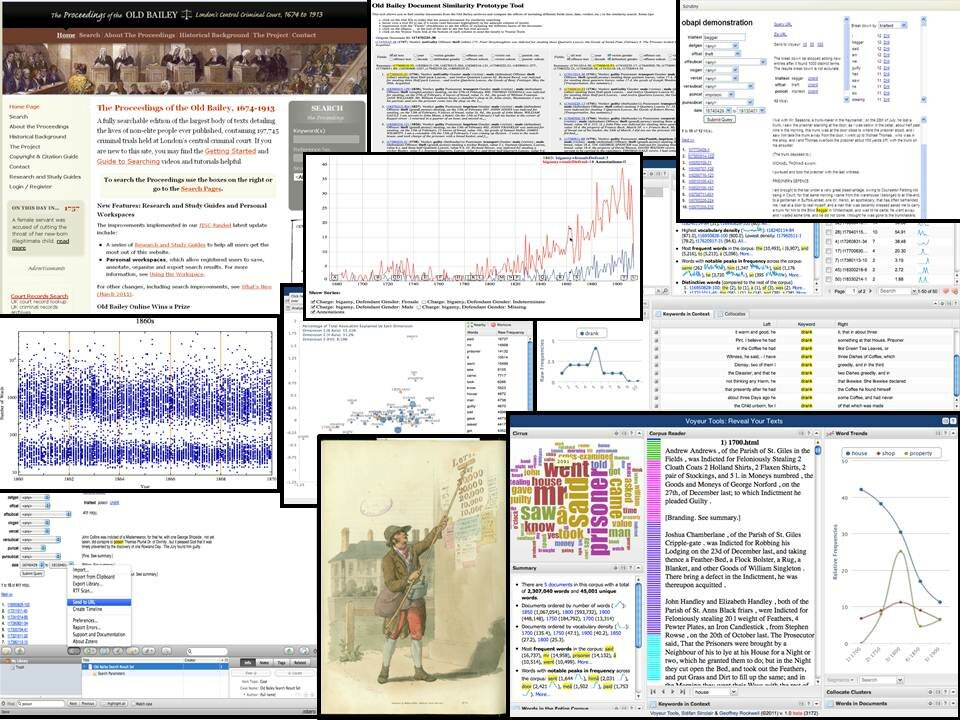 The Datamining with Criminal Intent project brings together three online resources: the Old Bailey Online, Zotero and TAPoR.  It allows users to study the rich Old Bailey resource (127 milllion words of trial accounts), using analytical tools from TAPoR like Voyeur and information management tools like Zotero. Researchers interested in studying the Old Bailey can now work in a distributed research environment where they can:
Query the Old Bailey site through a dedicated API,
Save result sets and queries to their Zotero account where they can be managed, and then
Send result sets from Zotero to text analysis tools like the Voyeur tools which have been enhanced to optimise their usefulness with these texts.
In addition to the integration of these three tools there is also a stand-alone prototype that is part of the project.  This is the data warehousing tool and it allows for the quick production of a variety of visuals from a summary of the data.  While not complete it provides a fairly robust proof of concept.
Detailed instructions for how to use the Old Bailey API, to import and select data from the Old Bailey in Zotero, how to use this material with Voyeur, and how to use the data warehouse prototype can be found on the pages listed at the top of the right sidebar on this site.
What you will need
Both the Old Bailey API and Voyeur can be used without having to install any separate software – simply navigate to the correct page and get started.  To use Zotero, you will need to install the current version of the software in your browser.  Zotero is free and can be accessed from http://www.zotero.org/
Links to Guides and Help